– de Sarvadore Serra
In totu su mundu  b'at pitzinnos chi creschent bilìngues, est a nàrrere in situatziones sotziales in ue si faeddat prus de una limba.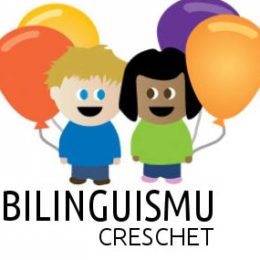 Custu fenòmenu, connotu comente "bilinguismu infantile", est ispainadu meda, a su puntu chi, cando si cunsìderant in profundidade sas situatziones linguìsticas, si iscoberit chi sa normalidade  in custu  pianeta est su  plurilinguismu, comente at afirmadu,  in  mesu de sos àteros,  su Prof. Andrée Tabouret-Keller de s'Universidade de Istrasburgu.
Su monolinguismu,  in càmbiu,  est un'anomalia bastante  reghente, un'idea chi s'est ispainada  in Europa e in sos giassos coloniales  cun sa creatzione de sos Istados-natzione.
Su paradossu, però, est chi su  bilinguismu l'ant bidu a s'ispissu comente un'anomalia, una cosa  "infadosa" e, a bias,  fintzas dannàrgia, nessi finas a su mesu de su sèculu XX.
Ma dae unas cantas dècadas sos istùdios  ant mustradu  chi su bilinguismu, mescamente su de sos pitzinnos, dat profetos medas, siat linguìsticos siat cognitivos:
agiuat s'imparòngiu de àteras limbas
sugùgiat s'abertura mentale
sugùgiat s'intelligèntzia e sa capatzidade  de si cuntzentrare.
Custas sunt petzi unas cantas resones  chi nch'ant giutu babbos e mamas medas  a impitare sas limbas regionales cun sos fìgios, pro nàrrere in Galles e in Frìsia, in ue s'aumentu de s'impreu de sas limbas regionales  benit fintzas dae su fatu chi si sunt abbigiados  de sos profetos ligados a su bilinguismu.
E duncas, in regiones medas de Europa sos idiomas  chi una bia  nche los poniant a un'ala   ca nat chi fiant "dialetos" (pro nàrrere, su  frisone) sunt agatende  su rolu legìtimu issoro de limbas regionales rispetadas  in sa sotziedade  moderna chi s'est abbigende  de èssere sèida subra de pòsidos de oro.
Belle gasi, cando sos mèdios de informatzione  italianos faeddant de profetos de su bilinguismu,  a s'ispissu si ìmplicat   chi sunt faeddende de limbas  "mannas", e duncas de  bilinguismu intre italianu e inglesu, tedescu, o frantzesu. Imbetzes tocat a s'ammentare chi no est gasi, e chi dae sos istùdios est essidu a campu chi sos profetos de su bilinguismu  bi sunt  fintzas cando si tratat  de "bilinguismu regionale", est a nàrrere bilinguismu intre limba de Istadu e limba locale.
Pro nàrrere, in su  2017 s'istudiosu Bloom e sos collegas suos  ant demustradu chi sos  bilìngues olandesu-frisone sunt mègius  de sos monolìngues  olandesos in sas  "funtziones esecutivas", est a nàrrere in sos protzessos  de pianificatzione, controllu e coordinatzione de su sistema cognitivu, gia dae cando tenent ses annos.
In sa matessi manera, Lauchlan e sos collegas suos ant bogadu a pìgiu unos cantos profetos cognitivos siat pro sos  bilìngues inglesu-gaèlicu (paragonados a monolìngues anglòfonos) siat pro sos  bilìngues italianu-sardu (paragonados a monolìngues italòfonos), e  Engel de Abreu e sos collegas suos ant iscumproadu abilidades cognitivas prus mannas  in sos bilìngues  portughesu-lussemburghesu a cunfrontu de sos  monolìngues  portughesos.
Resurtados che a custos  los ant iscumproados s'istudiosu  Costa e sos collegas suos pro sos  bilìngues ispagnolu-catalanu, chi ant mustradu  de èssere  prus lestros e  prus abbistos  de sos fedales  monolìngues  ispanòfonos in su  controllu esecutivu. Datos anàlogos sunt istados iscumproados  in unos cantos istùdios  de s'Universidade de   Bangor pro su chi pertocat sos  bilìngues inglesu-gallesu.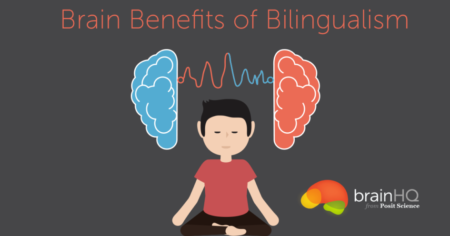 Ma sos profetos de su bilinguismu non bi sunt petzi  cun sas limbas regionales  chi sunt reconnotas in manera ufitziale  e duncas godint  de un'impreu fintzas iscolàsticu, comente su  gaèlicu e su catalanu. Difatis s'istudiosu  Jiang Pengyu at demustradu  chi sos bilìngues  chi faeddant  siat su mandarinu siat sa limba  locale de sa provìntzia Hunan (su xiang) sunt avantagiados in s'imparòngiu de un'àtera limba galu, superende, e meda puru,  sos monolìngues chi connoschent petzi su mandarinu. Custu demustrat comente  unos cantos profetos de su bilinguismu bi sunt fintzas cando s'iscolarizatzione  est galu, in manera tonta, monolìngue, giai chi sa limba  locale xiang est tratada comente "dialetu" dae su guvernu tzinesu, e duncas est mescamente  una limba faeddada, e in unu raportu  de diglossia cun su mandarinu.
A conclusiones simìgiantes  in situatzione diglòtica sunt lòmpidos s'istudiosu  Antoniou e  sos collegas suos in su 2014, cun un'istùdiu chi demustrat  chi sos pitzinos chi connoschent  siat su tzipriota siat su gregu tenent abilidades prus mannas  in su  controllu cognitivu a cunfrontu de sos fedales  chi connoschent su gregu ebbia.
Sos profetos de su bilinguismu  regionale abbarrant fintzas cando unu si faghet mannu. Pro nàrrere, un'istùdiu reghente de Nannou e Fotiadou documentat chi sas capatzidades  de elaboratzione de su limbàgiu  de sos monolìngues ellenòfonos   peorant prus in presse  de sas de sos bilìngues chi faeddant in gregu e in ponticu. Custu vantàgiu forsis b'est pro more de sa  "cuncurrèntzia lessicale" cun sa cale sos bilìngues gherrant cada die, comente faghent pensare fintzas  sos resurtados de s'istudiosu  Kirk e de sos collegas suos pro sos bilìngues  inglesu-iscotzesu e tedescu-bassutedescu.
Sos istùdios modernos, duncas, demustrant chi sos pitzinnos chi creschent  in una situatzione de bilinguismu regionale godint  de vantàgios  linguìsticos e cognitivos  chi abbarant cando sunt mannos.
A dolu mannu, in su prus de su territòriu italianu su bilinguismu lu cunsìderant a s'ispissu comente una cosa istrambòtica, si non  'perigulosa' pro s'isvilupu de su pitzinnu, e est galu inghiriadu dae credèntzias negativas medas e dae cumbinchimentos sena fundamentu, fintzas ca a s'ipsissu mancat s'informatzione.
In ue s'informatzione b'est, si punnat a faeddare de bilinguismu intre sas limbas mannas, comente chi custa siat s'ùnica casta de bilinguismu chi agiuat sos pitzinnos. In custu artìculu amus bidu comente  sos istùdios nos mustrant chi non est gasi, e chi, a sas beras,  sas limbas regionales  sunt una sienda manna chi si podet isfrutare pro irrichire su cherbeddu de sos pitzinnos.  Una sienda chi, mancari cun s'agiudu de sos giajos, non costat nudda a l'isfrutare.
BIBLIOGRAFIA
Blom, E., Boerma, T., Bosma, E., Cornips, L., & Everaert, E. (2017). Cognitive advantages of bilingual children in different sociolinguistic contexts. Frontiers in psychology, 8, 552.
Antoniou, K., Grohmann, K. K., Kambanaros, M., & Katsos, N. (2016). The effect of childhood bilectalism and multilingualism on executive control. Cognition, 149, 18-30.
Costa, A., Hernández, M., & Sebastián-Gallés, N. (2008). Bilingualism aids conflict resolution: Evidence from the ANT task. Cognition, 106(1), 59-86.
Engel de Abreu, P. M., Cruz-Santos, A., Tourinho, C. J., Martin, R., & Bialystok, E. (2012). Bilingualism enriches the poor: Enhanced cognitive control in low-income minority children. Psychological science, 23(11), 1364-1371.
Kirk, N. W., Kempe, V., Scott-Brown, K. C., Philipp, A., & Declerck, M. (2018). Can monolinguals be like bilinguals? Evidence from dialect switching. Cognition, 170, 164-178.
Lauchlan, F., Parisi, M., & Fadda, R. (2013). Bilingualism in Sardinia and Scotland: Exploring the cognitive benefits of speaking a 'minority'language. International Journal of Bilingualism, 17(1), 43-56.
Nannou, N., & Fotiadou, G. (2018) Language Processing and Ambiguity Resolution in Monolingual and Bidialectal Ageing. Poster presentato al 2nd International Symposium on Bilingual Processing in Adults and Children. Technische Universitat Braunschweig.
Mueller Gathercole, V. C., Thomas, E. M., Jones, L., Guasch, N. V., Young, N., & Hughes, E. K. (2010). Cognitive effects of bilingualism: digging deeper for the contributions of language dominance, linguistic knowledge, socio-economic status and cognitive abilities. International Journal of Bilingual Education and Bilingualism, 13(5), 617-664.
Pengyu, J. (2015). A Study of "Neglected" Bilingual Speakers in China and Their Additional Language Phonological Learning Abilities: A Tentative Approach to Identifying a Bilingual Mind. MA Thesis, Bangor University.
Ligàmenes:
https://patrimonilinguistici.it/i-vantaggi-cognitivi-del-bilinguismo-regionale/?fbclid=IwAR02Z1Ll58LDIcjb_3Rg2kkiHBNmfNXdcViigL_Olx_qc8Rgq36BARuheFA
https://bilinguismoregionale.net
Leave a comment