– de Salvatore Serra –
Su traballu terminològicu est fundamentale in sa polìtica linguìstica de sas limbas minorizadas, ca servit a bìnchere sa diglossia.
Operende in custu setore, tocat a cunfrontare sa limba interessada cun sas àteras limbas.
Inoghe, a ghisa de mustra, bos propòngio unas cantas frases in inglesu dae su giassu https://www.bbc.com/news/business-61008730  cun sa tradutzione in sardu.
………………………………………………..
Patrick Paumen causes a stir whenever he pays for something in a shop or restaurant.
Patrick Paumen pesat trèulu cada borta chi pagat carchi cosa in una butega o in unu  ristorante.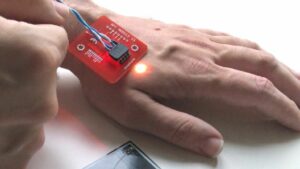 This is because the 37-year-old doesn't need to use a bank card or his mobile phone to pay. Instead, he simply places his left hand near the contactless card reader, and the payment goes through.
Su fatu istat chi custu òmine  de 37 annos non tenet bisòngiu de impitare una carta o su telefoneddu pro pagare. Intames, issu ponet sa manu manca  a probe de su letore sena cuntatu e su pagamentu est fatu.
"The reactions I get from cashiers are priceless!" says Mr Paumen, a security guard from the Netherlands.
Sas reatziones chi tenent sos cassieris non si podent contare!" narat Paumen, una guàrdia giurada olandesa.
He is able to pay using his hand because back in 2019 he had a contactless payment microchip injected under his skin.
Issu podet pagare cun sa manu ca in su 2019 nche l'ant cravadu unu microchip de pagamentu sena cuntatu suta de sa pedde.
"The procedure hurts as much as when someone pinches your skin," says Mr Paumen.
"S'operatzione non faghet prus male de cando calicunu ti pìtigat sa pedde", narat Paumen
A microchip was first implanted into a human back in 1998, but it is only during the past decade that the technology has been available commercially.
– Unu microchip nche  l'ant postu pro sa prima borta  in un'èssere umanu in su 1998, ma est petzi in s'ùrtima  década chi sa tecnología at cumintzadu a èssere disponìbile cummertzialmente
Leave a comment